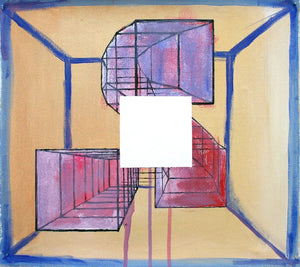 Untitled - Invisible Energies Series
Regular price $6,400.00 Sale
2020, acrylic on canvas

47x54cm

We aim to deliver your order within 30 working days.
Shipping is paid separately.
Every artwork will be provided with a digital certificate of provenance using blockchain technology for transparency, security and anonymity to protect your records of ownership.
About the artist
Brazilian, visual artist Sabrina Barrios finished her BFA in Graphic Design (UFSM, 2004), before relocating to London, São Paulo and Berlin. In 2009 she moved to New York to complete her MFA at Brooklyn's Pratt Institute (2012).
 Sabrina's work has been included in The Fourth Bronx Museum Biennial (2017) in New York. The artist currently lives between Brooklyn and Rio de Janeiro, using art
as an instrument for dialogue, resistance and political change.
 "I focus on the relationship between the self and the collective consciousness, and on our perception of reality–that might not be real. I search to understand what bonds and what controls us; the power of faith; the inner universe; the multiverse; and how these things are interconnected.
 My research encompasses psychology, cosmology, quantum physics and history–not only the history one reads in books, since books have been written by victors.
As part of my research I immerse myself in the place and community where my work will be created, so it has a direct dialogue with its people. My personal impressions are then translated into large scale installations, drawings, paintings, videos or multimedia immersive experiences."