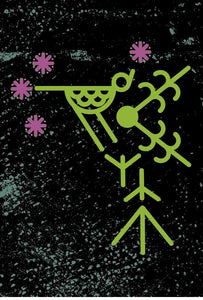 Pimi
Regular price $128.00 Sale
2020, print on Hahnemühle Photo Rag
A3 59.4x29.7cm
We aim to deliver your order within 15 working days.
Shipping is paid separately.
Every artwork will be provided with a digital certificate of provenance using blockchain technology for transparency, security and anonymity to protect your records of ownership.
About the artist
Denilson Baniwa, 35, was born in Mariuá, in Rio Negro, Amazonas, Brazil. The cultural references of his people are the starting point to this path to becoming an artist. 

At very young age, the artist began his career in the struggle for the rights of indigenous peoples and moved through, back and forth, in the non-indigenous universe, gathering references that would strengthen the stage of this resistance. 

Denilson Baniwa is an anthropophagous artist, as he appropriates Western languages to decolonize them in his work.

His contemporary production consolidates himself as a reference, breaking paradigms and opening paths to of the indigenous people as key players in the national territory.