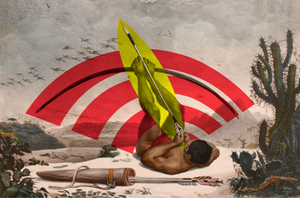 Digital Archer
Regular price $128.00 $128.00 Sale
Print on Hahnemühle Photo Rag

A3 29.7x59.4cm

We aim to deliver your order within 15 working days.

Shipping is paid separately.

Limited Editions: 10 prints available

Every artwork will be provided with a digital certificate of provenance using blockchain technology for transparency, security and anonymity to protect your records of ownership.

About the artist:

Allow us to introduce you to the extraordinary artistic creation of Denilson Baniwa, a Brazilian artist who holds a prominent position in both contemporary and indigenous art. Coming from Mariuá region in Rio Negro, Amazonas, Brazil, Denilson draws inspiration from the cultural heritage of his people, seamlessly infusing it into his artistic journey.

From a young age, Denilson has championed indigenous rights, skillfully navigating both indigenous and non-indigenous realms to curate a rich tapestry of influences that fortify his resolute stance of resistance. As an anthropophagous artist from the Baniwa indigenous group, he masterfully appropriates Western languages, instigating a process of decolonization and profound redefinition within his artistic oeuvre.

Denilson Baniwa's contemporary body of work stands as an unparalleled reference, dismantling entrenched paradigms and forging new pathways for indigenous communities to reclaim their rightful place within their national territory. Now, you are presented with an exclusive opportunity to possess a fragment of this visionary artist's legacy through our remarkable art print collection.

Meticulously optimized to exalt your living space and evoke a profound sense of cultural metamorphosis, our exquisite art prints capture the ethereal beauty and empowering essence encapsulated in Denilson Baniwa's artwork. Immerse yourself in the profound depths of human expression as you embrace this masterpiece, impeccably crafted to showcase Denilson Baniwa's unrivaled artistic brilliance.