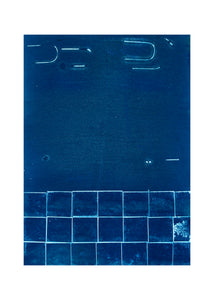 Solar #6
Regular price $640.00 Sale
 2019, digitised Cyanotypes C-Type print on cotton paper
50 x 70 cm
Cyanotypes are a record of light. Paper is chemically treated with a sensitising solution, exposed to sunlight and developed in water to produce Prussian blue images, that will be digitalised and printed on archival photographic paper for maximum duration.
About the artist

Brazilian visual artist Patricia Borges works mainly with photography and often adopts a multidisciplinary approach by presenting images together with texts and three-dimensional objects. Her images explore the details and fragments that mark the passage of time in the natural and built worlds. Starting in 2019 Patricia Borges' main research focuses on camera-less photography. Her works on paper explore and update the historical process of cyanotype. The images result from a series of unpredictabilities from UV light exposure, pigmentation through chemical reactions and physical procedures with the material she uses to push the boundaries of the medium. Graduated in architecture, photography, cinematography and screenplay. Awarded at the biennials of Florence and Rome. Her work has been featured in numerous publications and exhibitions around the world and it is part of major private collections. Recent exhibitions include Le 228e Salon des Artistes Français, Grand Palais - Paris (2018), Tokyo Art Fair - Japan (2018), Luxembourg Art Fair (2019), Photo Israel - Tel Aviv (2019), Society of Scottish Artists Annual Exhibition - Edinburgh (2019). In 2020, her works were selected for Photo Milano, Festival de Copenhagen Photo Festival and Artexpo NY (by the New York Center for Photographic Art).
About the series
"I guess we photograph in an attempt to understand the impermanence of life, the transience of all things that cease to be, despite our desire to retain them, to keep them. But not even the photographic image is permanent or eternal. Without light there would be no photography. Without light there would be no day. Technology gives us the eternal day. There shall be no nights. Just the eternal light. And the illusion of infinite time. In this series the sun is no longer reflected light but an alchemical brush. To produce camera-less cyanotypes I use natural sunlight, salts, sea water and sand. I get out of the lab, away from my computer and cell phone. I work outside on an urban beach, and experience the contradictions of natural and built environments. Nothing can be controlled: water temperature and pureness, pollution, light consistency, chemical reactions. Images result from this series of unpredictabilities."