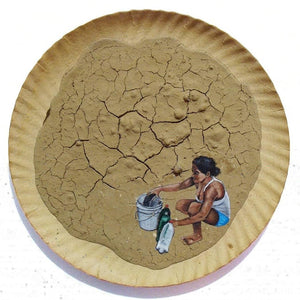 Untitled - Vidas Secas (Barren Lives) Series
Regular price $384.00 Sale
2020, oil and acrylic on cardboard plate
Ø30cm
We aim to deliver your order within 30 working days.
Shipping is paid separately.
Every artwork will be provided with a digital certificate of provenance using blockchain technology for transparency, security and anonymity to protect your records of ownership.
About the artist
31 year old Marcos Roberto is from Bauru – Sao Paulo State and studied Visual Arts at FPA in Sao Paulo City.
He has been using discarded materials as "blank canvas" for his oeuvres. His works reflect on the contradictions, the social inequalities and give visibility to the marginalised peoples from the Brazilian society.
He utilises metal, cardboard, wood and concrete on his works as a way of upcycling and giving value to materials that would be otherwise binned.
 The political and social critique that is present in his works are not only about painting the day-to-day lives of those excluded individuals, but also on recycling those objects used on his paintings, provoking and instigating reflection from the observers.