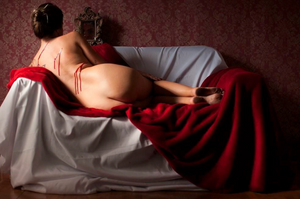 Vênus
Regular price $359.00 Sale
2019, Photography, Giclee Epson Semi-gloss or C-Type Matt paper
We aim to deliver your order within 15 working days.

Shipping is paid separately.
Every artwork will be provided with a digital certificate of provenance using blockchain technology for transparency, security and anonymity to protect your records of ownership.
About the artist
Luana Lins lives and works in Sao Paulo, Brazil. She has an Arts degree from the renowned Fundação Álvares Penteado - FAAP (2005). She joined many contemporary art shows across different cities in Brazil, besides many collective exhibitions in galleries, cultural institutions and independent art spaces such as Paraty's Culture House, Oswald de Andrade Cultural Office amongst others.
She utilises different languages like video, photography, painting, collage and installation to analyse how the female figure was (and still is) portrayed throughout the 20th and 21st centuries in different medias, from cinema to literature.
About the work
"Venus, the goddess of beauty and marriage, is a self portrait that, as the name suggests, is an allusion to Velazquez's classic painting, the Rokeby Venus (1647-1651). On this version I am in a similar position to the original painting, but I have some cuts on my back. This work makes reference to when suffragette Mary Richardson tears the canvas with a chopper, making cuts on many parts of the canvas, mainly on the figure's nude back. At the same time that makes an important allusion to an important historical fact to feminism, the image relates to a scene of domestic violence."